Most people seem to think that folding chairs are reserved for big events. Although this is where you can most often find a large number of foldable chairs at once, they aren't just reserved for large gatherings. A home can also stand to benefit from having a set or two of folding chairs for entertaining guests during special occasions.
It may seem like a hassle to have a set of extra chairs lying around your home when they're not in use, but that's the beauty of folding chairs; you can easily and without any effort store them away without worrying about taking up too much space.
Having a few extra chairs around the house doesn't hurt. You will always have one ready to grab in case you need them. Plus you get to save money on renting these useful chairs every time you plan on entertaining.
If you're thinking of looking for a set of folding chairs for your home, this review of the Flex One Folding Chair will give you a better insight on the different pros, cons, and features these folding chairs have.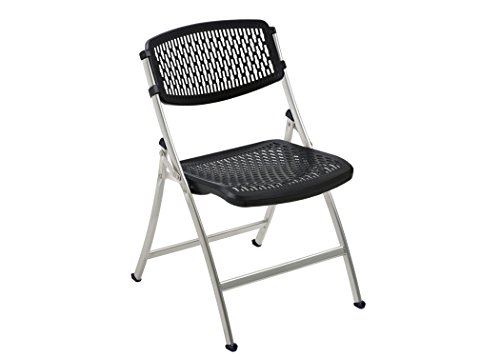 Features of Flex One Folding Chair
Capability of withstanding 1,000 pounds
Made with a durable "mesh" plastic material
Offers a 10-year warranty
Conforms to body shape for extra comfort while seated
Seats are extra wide to accommodate all sizes
No assembly required
Economically priced
Made in the US
Uses impact resistant polypropylene
Constructed using high-grade and high-quality materials
Durable and fairs well against extensive commercial use
Minimized impact on pressure points
Offers extreme comfort
Ergonomically designed
Unique plastic pattern for better seating experience
Great for indoor and outdoor events
Set comes with 4 folding chairs
Total shipping weight of 37 pounds
Advantages
When it comes to seating guests at home, your top two priorities should be comfort and safety – which is exactly what the Flex One Folding Chair offers. It's amazing sturdiness and durability means that it fits every one of all sizes and keeps them safe from accidents while seated.
The high-quality materials used to construct this set of folding chairs are remarkably resistant to pressure and the wear and tear of constant use, even when exposed to heavy weight. Its unique ability to handle a lot of weight makes it the optimum chair for events because it is a folding chair everyone can rely on.
Another plus for the Flex One 4-Pack Black Folding Chair is its mesh pattern that conforms to the body of the one seated. Unlike most plastic folding chairs that are uncomfortable for prolonged use, this set is a good change that allows you to relax and feel comfortable even when using a folding chair.
It is also designed with a wider seat to accommodate all shapes and sizes without worrying about discomfort. Despite all of those factors, the folding chair is still very lightweight and easy to store.
It is a great temporary seating option for events or even gatherings at home where extra seats are required.
With the many features that come with this Flex One product, it is surprisingly affordable. Even planners and other venues that host many people find that these chairs are one of the best options when it comes to reliability, versatility, durability, and price.
Plus, once you're done using them for your event you can easily stack them up and store them away without them taking too much space at home or at your venue. They are also very easy to transport, making it a great option for gatherings and events at different locations.
Of course, it also helps that the manufacturer offers a 10-year warranty for the Flex One 4-Pack Black Folding Chair, meaning they believe in the quality of their product.
Disadvantages
Although this folding chair comes highly recommended by many event planners and those who have this set at home, there are still some concerns worth noting. For those who are looking for a permanent seating option for their home, this folding chair is not ideal.
These chairs are meant for temporary seating for events like dinner parties and wedding, but they do not hold up well against the everyday wear and tear of being a part of the permanent dining set. If you are looking for a cheap permanent sitting option, folding chairs are never a good choice.
There are also instances where time and constant use starts to deteriorate these chairs. If this happens to you and you are still covered by the 10-year warranty, contact the manufacturer immediately and they will gladly assist you.
After all, you cannot expect to use folding chairs regularly and not see any signs of wearing and tearing, especially after the first 2 years of use.
Verdict
For USA made, sturdy, reliable, and affordable set of folding chairs, nothing can compare to the Flex One Folding Chair. You won't have to worry about extra seating for years when you have this set at home!