Winsome Wood Folding Chairs Review
Whether you're stocking up on seats for a party or an event, or are just looking for some travel-friendly chairs to complete your camp set-up, a good set of folding chairs is always useful to have around.
Even if you already have adequate seating indoors, and have a permanent dining area on your backyard, you never know when you'll need more seats—sometimes it's difficult to estimate how many guests will actually be attending a party, for example, and you should always have extra seats around just in case.
Folding chairs can be useful in other situations as well. They're great for camping trips or events where you need quickly assembled seats that are easily moved about, and they're great for parties not just as replacements for permanent seating but for party games as well.
The fact that these chairs are incredibly unobtrusive only adds to their usefulness. And while it's true that you may not need to use them on a daily basis, they can be easily tucked away for the time being. You won't have to always worry about where to keep them or how much space they are going to eat up.
If you live in a smaller house or an apartment where you don't have the luxury of space, then folding chairs are an excellent option for you. You won't be needing an entire room exclusively for dining, let alone one that has a full dining table and chairs set-up.
Many modern folding chairs are made to address the need for space-efficient furniture. They are also made to support a considerable amount of weight without collapsing in on themselves.
They're great to have, but given how many of them are there on the market, it can be difficult to pinpoint which ones are the best for you.
To help you along, we've got a review on the Winsome Wood Folding Chairs—a standard folding chair set that's great for both indoor and outdoor use.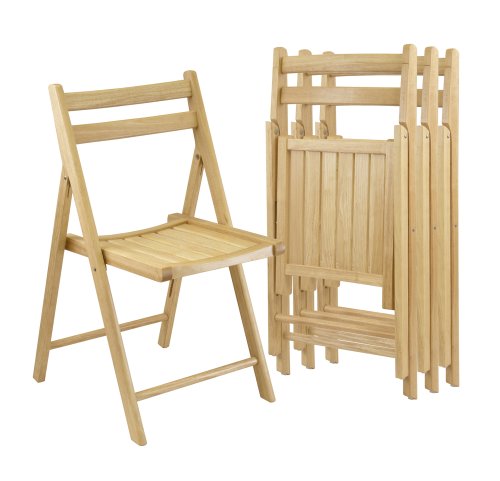 Features
The Winsome Wood Folding Chairs come in a set of four and are fully assembled. They come with the following specs and features:
They're made out of solid wood and are durable and sturdy enough to carry considerable weight but light enough not to be of inconvenience when moving them around.
They come in a lovely natural wood finish to match any home, room, or backyard design.
The chairs are traditionally styled with a slatted seat and contoured back that not only look great but make for very comfortable seating as well.
These incredibly easy-to-store chairs take up very little space when folded up. It measures 17.6 inches in width by 2.8 inches diameter by 35.1 inches in height.
The seat's width is 15.1 inches, height is 17.4 inches from the floor, and the seat's back measures 17 inches across by 14.9 inches in length.
Pros
Not needing assembly. They are ready-to-use right from the box if you need them.
The natural wood finish of the folded chairs matches nicely with many different styles and colors of tables and other furniture, making them an easy addition to an existing room, home, or backyard.
The seats are durable, and can even stand up to hyper children seated on them without tipping over.
Take up very little space when folded up, and are very easy to store
Very comfortable, great for long events or parties that require guests to stay seated for longer periods of time or to replace permanent seating around the house.
Cons
May not fit everyone, especially people that are on the taller side as the seat may be quite short and the angle of the back quite straight, making it uncomfortable to sit on.
Likewise, while it can support a considerable amount of weight, they are not suitable for people that are of excessive weight. It may give you the feeling like it may be caving slightly.
May be challenging to find cushions that fit on the seats given the measurements
Summary
The Winsome Wood Folding Chairs are a set of four, natural wood finish folding chairs that come fully assembled.
The measurements make it incredibly easy to store, however, the seat can come up a bit short for taller people.
They're made out of solid wood making them quite durable, and they can easily accommodate a considerable amount of weight—however for people that weight over 200 pounds, they may not be the best choice.
Comparison
Compared to other folding chairs which are made from other popular materials such as plastic or metal, the solid wood that the Winsome Wood Folding Chairs are made out of has its advantages and disadvantages.
Unlike metal folding chairs which can be unusable during seasons with extreme temperatures—who wants to have to sit through an event with their butt on fire during the summertime, or frozen to their seat during the winter anyway?—wooden folding chairs tend to be much more comfortable.
While metal and plastic folding chairs aren't exactly the most appealing in terms of home décor, the natural wood finish and traditional style of the Winsome Wood Folding Chairs are easily integrated into a well-furnished home.
A drawback of having wooden folding chairs, however, is the cleaning. While metal and plastic chairs are easily wiped down, the same isn't true for wooden chairs.
Verdict
Overall, these Winsome Wood Folding Chairs are a great set to have, even if you don't need the chairs immediately.
Because of how little space they take up, they're great to have around the home even if for the moment they're just an "in-case-they're-needed" items. They're easy to move and tote around if you're looking for a seat during barbecue backyard parties or on a camping trip as well.
Conversely, if you're looking for something to replace permanent seating because you don't have the room or want to save space, they're sturdy and comfortable enough for that as well.
Their natural wood finish makes it easy for you to match them with any furniture you may already have, and they complement many different designs, so you don't have to worry about clashing with your home or backyard.
Having this set of stylish folding chairs is like an investment or plan B in case you run out of seats for your guests at home. Moreover, with its portability feature, having a decent seat anywhere your home is now possible.