Spending time outdoors is great to get some time out and relax from all the busy bustles of life. However, with many other people also frequenting beaches and parks, you may find it difficult to sit and relax because all the seating spots are taken. It is a viable option for you to sit down on the ground, but you may prefer to sit somewhere more comfortable.
This is even more so if you have back pain and you just want to sit at somewhere comfortable so that you can enjoy your time outside. In terms of practicality, many people wonder how they can carry a chair all the way to the beach or park. The best solution to this is to get a foldable chair.
One of the many advantages of getting a foldable chair is you can easily fold it and most of them are not heavy which means less strain to your arms. Simply pack it into your vehicle and carry it anywhere you want, so that you can enjoy your time outdoors.
Now, how do you identify the best folding chair in the market? With many portable chairs in the market having a reputation for not being portable and can only last for a short time, the Caravan Sports Suspension Folding Chairprovides a good solution as it is a great folding chair, highly comfortable and practical.
Take this folding chair with you to events such as music festivals, sports games or even keep it in your back yard for use during a barbecue session! Here are several features of this folding chair which makes it a great product.
Features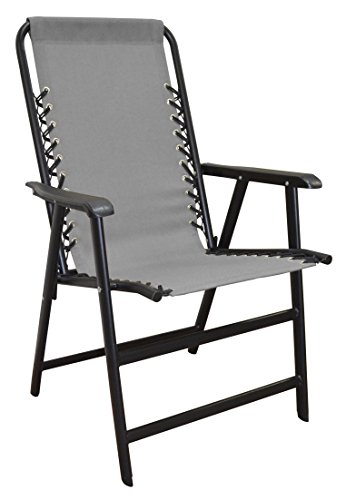 The Caravan Sports Suspension Folding Chair is a highly portable folding chair that you can carry with you wherever that you want. It can support up to 300 lbs and is highly comfortable for you to use.
This folding chair is termed as a deluxe deck chair, but also offers the portability of a good folding chair at the same time. Simply fold this chair and place it at the back of your vehicle. Then, carry it to the beach, park or any game that you want to attend.
With the Caravan Sports Suspension Folding Chair, you will experience comfort with a folding chair that you have never experienced before. To ensure that you enjoy maximum comfort, this folding chair has a double bungee system which can support your weight.
Once you are done using it, you can also easily fold it up and store it elsewhere easily. Take it out of your sight or take it along for any of your sports game and it will be the most comfortable seat that you have in the game.
Pros
High portable
Easy to store it after use
Highly comfortable
Double bungee system
Highly sturdy build
Can withstand up to 300lbs
Cons
Bolts on each side might be uncomfortable
Chair may be a bit narrow
The back has a steep angle
No adjustable recline
Front leg nuts get unscrewed when you folded
Summary
One of the best things about the Caravan Sports Suspension Folding Chair is that it can hold up to 300 lbs. This means that a lot of people will find it useful to use this folding chair. Weighing only 13 pounds, it is convenient to carry this chair anywhere.
Compared to many of the other chairs in the same category, it is a breeze for you to carry it around with you. With a double bungee system, it ensures that you will enjoy maximum comfortability. The function of the double bungee system is that it enables you to cradle in the most comfortable position.
With this folding chair, you will experience comfort at a whole new level using a folding chair. The high portability paired with a great design makes it a great addition to any outdoor spaces. The design of the folding chair itself is also highly appealing and beautiful.
The manufacturer of this product, which is the Caravan Canopy International Inc. is a well-known manufacturer, which makes some of the best products in the market. You will not regret your investment in this folding chair as it is highly portable, practical and comfortable to use.
Comparison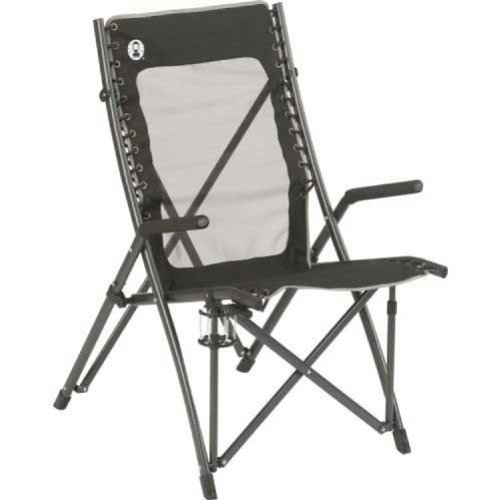 The Coleman Comfortsmart Suspension Chair is another folding chair in a market which is quite popular. It has an innovative and flexible suspension system which allows you to enjoy superior comfort.
This folding chair has a nylon mesh fabric which ensures that your back remains cool as air can pass through the fabric.
It also has a drink holder which can fit a can, bottle or a coffee cup. Besides, the steel frame enables you to store and carry it easily. Similar to the Caravan Sports Suspension Folding Chair, it can also carry up to 300 lbs.
While it is a highly comfortable chair, most of the parts are very cheaply made. Therefore, anyone who buys this product will have to replace most of the parts within a few months.
The cup holder itself is also only created using cheap material and can come off after using it a few times. The screws also often become loose easily.
Final verdict
As a whole, the Caravan Sports Suspension Folding Chair is a great folding chair because it utilizes the double bungee system which enables you to experience maximum comfort by enabling you to cradle in the most comfortable position.
This folding chair is a great addition to your outdoor spaces as it has a sleek design. Enjoy your time at the beach, park or any sports game by having the most comfortable seat using the Caravan Sports Suspension Folding Chair.
Once you are done using it, easily store it away for usage by simply folding it and putting it away. The highly sturdy build of this folding chair makes it a high-quality product you can use for years to come. For the best selection of folding chairs in the market, choose the Caravan Sports Suspension Folding Chair.