Coleman Portable Camping Quad Chair with Cooler Review
A quality camp chair should be durable, portable, lightweight, and easy to store. You should consider these factors when looking for a camp chair.
Putting your money into such an investment may be the difference between kicking back and relaxing around the campfire and ending up with a numb bottom.
Camp chairs are suitable for frequent festival goers, sport watchers, and campers alike. Experiencing the ultimate comfort level on a camp chair is the common thing between these two groups of people.
Camping chairs are likely to get a lot of mishandling, for instance, tossing them into your car or truck's trunk, dragging them around campsites, and exposure to weather elements. With this level of mishandling, you expect the camp chair you choose to be comfortable and durable.
Therefore, a cheap camping chair is not suitable since it is likely to eventually fall apart. However, it is not easy finding the right camping chair.
The Coleman Oversized Quad Chair with Cooler has the perfect combination of being durable, affordable, and comfortable. It is suitable for campers, festival goers, and homeowners looking for a comfortable and roomy camp chair. You can comfortably settle into your favorite camping chair after an eventful summer afternoon.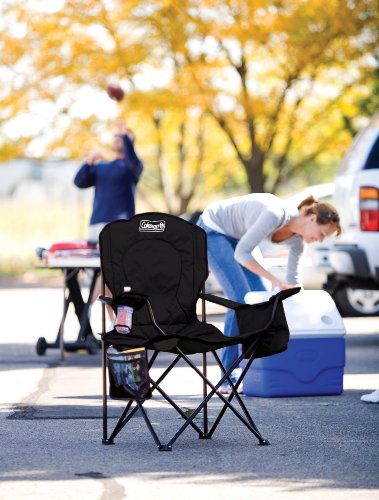 Features
The Coleman Oversized Quad Chair with Cooler is a luxury camping chair that combines comfort, durability, and affordability. This camping chair has enough room for those looking to get extra space.
It is additionally versatile; you can use it in a camp, concert, or festival. You can pack it up easily into its carry bag. It has a small cooler built into its armrest holds if you like enjoying a cold beer or soda.
This camp chair has a fully cushioned seat for maximum comfort that makes relaxing even better. Some of its other features that make it unique include the following:
Comes in a variety of colors (black, red, blue, and gray/black)
Has a built-in armrest cooler that can hold up to four cans
The arm-rests are adjustable by height
Folds up into a carry bag for easy transportation and storage
Side pockets for keeping magazines and other necessities
Made from a heavy-duty steel frame
The padded seat can support up to 300 lbs.
Pros
Easy to transport since it fold-ups into a carry bag
Comfortable to sit in
The material is sturdy which gives chair a long life.
The coolers and side pockets make it versatile
The chair is roomy, sturdy, and supportive
Cons
The carrying bags are of poor quality.
It is quite bulky
Summary
The Coleman Oversized Quad Chair has all the necessary features you require for a camping or festival weekend. It combines comfort, portability, durability, and affordability.
This seat can support up to 300 pounds because of the heavy-duty steel frame used to make it. It has a long back for those looking for a little extra room.
Furthermore, there is a padding on the backrest and the seat to ensure you are comfortable as you enjoy watching the sunset or sunrise. The chair easily folds up into a carry bag making it quite easy to carry around.
However, you may find it to be a bit bulkier or heavier than other cheaper camping chairs.
You can easily fit it in the trunk of your car or truck since it becomes incredibly small when you fold it. You can easily adjust the height of the armrests on this chair to your suitable comfort level.
The armrests come with a built-in cooler that can hold up to four cans of beer or soft drinks. A mesh cup holder makes it possible to hold the fifth can.
There is also a side pocket where you can keep your magazines, camping accessories, and other personal items. Coleman gives you quality at an affordable price.
Comparison
Alps Mountaineering King Kong Chair
The Alps Mountaineering King Kong Chair is one of the strongest and sturdiest camping chair in the market. The chair creates a perfect balance between comfort and durability with the high-quality materials used to make it.
It has a high-quality polyester fabric that is strong and durable when combined with the steel frame. This makes it quite stable and the chair can support a weight of up to 800 pounds.
There is a lifetime warranty against manufacturer defects for this chair you do not have to worry about discarding it. The steel frame additionally has a powder coating that ensures it is rust proof.
The chair has adjustable armrests that have cup holders and side pockets on each arm. There is an additional mesh storage pocket on the chair's back. This makes it suitable for keeping a book, tablet, or magazine.
In comparison to the weight it supports, the chair is just 12 pounds heavy. You can easily fold up the chair into a shoulder carry bag that makes it quite easy to store and transport. It should be a no-brainer for anyone looking for a quality chair that is affordable, has a great weight support, and is durable.
There is another similar chair from Quik Shade, but it also has a canopy. Here is a review of the Quik Shade canopy folding camp chair.
Conclusion
A proper camping chair should combine several features that make it comfortable, portable, durable, and supportive. In addition, the perfect chair should easily fold up to make it easy to transport and store.
It should be capable of surviving in the rough weather out there in addition to the mishandling it is likely to go through. You should consider where you want to use your chair mostly. Is it camping or backpacking?
If you like enjoying your drinks outside, choose a comfortable chair that has enough beverage space. Most of all choose a camping chair that meets all your needs.
We recommend the Coleman Oversized Quad Chair with Cooler because of its winning combination. This camping chair is durable, affordable, and comfortable.
It has enough storage space for camping accessories and personal items in addition to the cooler on its armrests. You can store up to five drinks with this chair.
However, it supports only 300 pounds to Alps Mountaineering King Kong's 800 pounds. This does not mean that it is not durable and sturdy.
The patented heavy-duty steel frame makes gives its durability and strength. With the Coleman Quad Chair, there is assurance that you get quality and comfort at the best price.