You could purchase quality camping and folding chairs, but the ones that will serve you longer are usually more expensive. By making wooden folding chairs by yourself will save a lot of money, and more importantly, it will give you pleasure.
You can find some examples of folding chair plans at the end of this post >>>
Make one or buy one, folding chairs solve the problem with extra seating when entertaining lots of guests. There are models from simple flat stools to comfortable lounge chairs in which you can spend an entire day resting.
Although there are already a lot of commercially available pre-made folding chairs, you always have the option to create one on your own. The advantage of building it yourself is that you are sure of the material quality.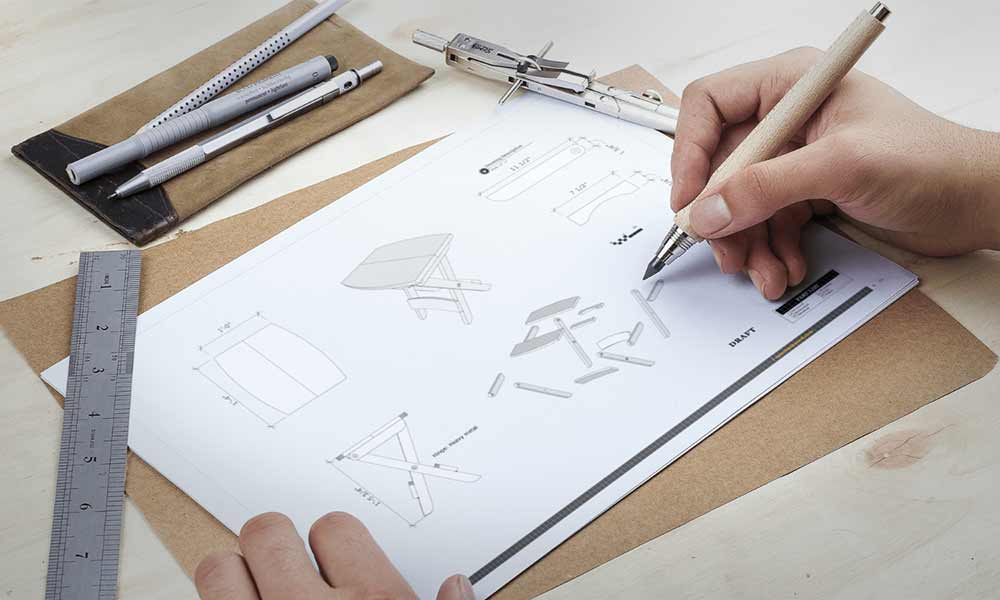 Likewise, you can also choose the features that you want to include. However, to create one, you need to have clear and detailed folding chair plans.
With folding chair plans, material lists and handy tips, you can prepare for a great weekend activity.
Some of these plans will help you prepare camping stools. Camping gear you need besides usual tents and sleeping bags are folding table and camping stools or camping chairs. Good folding seats or chairs can significantly improve the quality of camping.
What Are Folding Chair Plans?
As similar to building and floor plans, folding chair plans are pieces of papers that contain writings and images that describe the different elements of a folding chair construction project. In simpler terms, they are sketches or drawings that have labels.
Many woodworkers use CAD-software to create 3D-models and drawing plans. SketchUp is an excellent option to look for, and it's quite popular among woodworkers.
This is an image from Sketchup 3D Warehouse. You can click it, and rotate the view in your browser:
3D-models and drawings are created to assist you in building your folding chair. Thus, you no longer have to do several trials and errors so that you can make the perfect folding chair that you want.
Important Things Included In A Folding Chair Plan
The images that are contained in folding chair plans include the different parts of the chair that you want to build. That will consist of the backrest, sitting area, armrests, legs, and other elements that you may want to include.
Likewise, each part also has its corresponding measurement. That is important so that the folding chair that you will build will have the right balance. Plans should also include the different screws, bolts, and nuts that you need to use to assemble your chair.
A folding chair plan must also clearly demonstrate the step-by-step procedure on how you will go about with the assembly or building of the chair. It is better if it is shown using images that also include minimal written instructions.
Free Folding Chair Plans
The good thing is that you do not need to have a degree in carpentry, engineering, or fine arts to make plans yourself. That is because there are already folding plans that are either commercially or freely available.
Some criterions on choosing these plans were that they could be quickly and cheaply made by people who do not often engage in woodworking and do not have a fully equipped workshop.
For this reason, these plans use mostly wooden parts and simple fasteners.
Stools
Stools are one of the easiest pieces of furniture that you can make, although stools are extremely practical in daily use. They can be used for sitting, to put your legs when sitting on the chair, or as a stand. They are small and lightweight, so they can be easily moved around.

Craftsmanspace has a nice plan for a camping stool.
It somewhat resembles this model from SketchUp 3D Warehouse:
Small foldable stool
Instructables shows an idea for a convenient small foldable chair, or stool, that is easy to make.
Fold-up chair
Canadian Woodworking has a plan for a fold-up chair that is easy to carry and comfortable to sit on. You can take this chair with you when visiting outdoor events.
Unique folding chair
Another example from Instructables – a very unique folding chair. Simple model, simple parts, but lots of cutting.

Note, you don't want any potential structural failures due to weaknesses in the wood for this kind of chair, or any chair, so be careful when selecting wooden parts. Watch out for splits and large knots.
Adiorondack chair
Woodworking for Mere Mortals has lots of original free woodworking plans, so we are not going to put any one of those here, but instead link to all plans they got. For example, they have a plan for nice Adiorondack chair with SketchUp-model to look for also.
Final Advice
Having a folding chair will greatly benefit anyone because of its portability and functionality. Building one on your own may sound very difficult.
But, with great determination and vision, as well as with the help of quality pre-made folding chair plans, you will surely build one that you will be proud of.